OTM/GTM Cloud 21C: What's new in Analytics & Logistics Machine Learning

Presenters
:
- Muthurajan Balasubramanian, Director Logistics Product Development, Oracle
- Brian Ramos, Product Manager Logistics Product Development, Oracle
Abstract
: This session offers insight into the new Analytics & Logistics Machine Learning capabilities in OTM-GTM Cloud 21C. Learn how you can now leverage our next generation BI tool set (Oracle Analytics Server) to significantly enhance your Business Intelligence needs and experience. We will also present the innovations recently developed and upcoming in the area of ETA-predicting machine learning.
Muthurajan Balasubramanian
is a Director of Logistics Product Development at Oracle. Muthurajan has 22+ years of experience in Enterprise Software development, specialising in the Suppy Chain space – Logistics and Supplier Relationship Management. He is responsible for leading, managing and supporting OTM-GTM Product Development at at Oracle India Pvt Ltd, Bengaluru. He is passionate over Logistics & Technology and enjoys working closely with Customers in building the next generation OTM Cloud while ensuring Customer success. Muthurajan holds a Post-graduation in Business Management, Jamshedpur and an Engineering Degree.
Brian Ramos
is a Product Manager in Oracle's Logistics Product Development organization. With 15+ years of experience in logistics management and supply chain information systems, Brian serves as the Product Owner for OTM-GTM Analytics, Logistics Machine Learning and Logistics Digital Assistant. He holds an undergraduate degree in Economics (Messiah University) and a Master of Engineering in Logistics degree (Massachusetts Institute of Technology).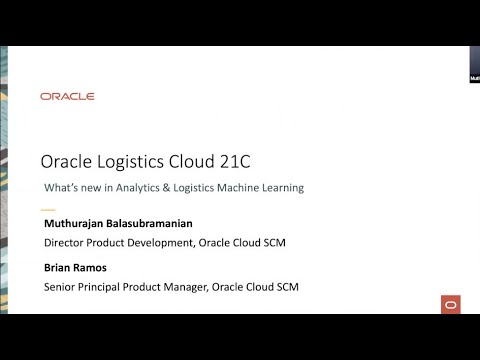 Presentation slides
:
C21A-08 Oracle Logistics Cloud 21A - What's new in Analytics and Machine Learning.pdf